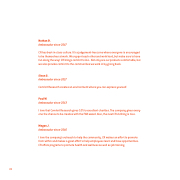 88
Nathan B.
Ambassador since 2017
CR has best-in-class culture. It's a judgement-free zone where everyone is encouraged to be themselves at work. We support each other and work hard, but make sure to have fun along the way! CR brings comfort to ALL. Not only are our products comfortable, but we also provide comfort to the communities we work in by giving back.
Sivan G.
Ambassador since 2017
Comfort Research creates an environment where you can express yourself.
Paul W.
Ambassador since 2013
I love that Comfort Research gives 10% to excellent charities. The company gives every- one the chance to be creative with the FAB award. Also, the neat CR clothing is nice.
Megan J.
Ambassador since 2016
I love the company's outreach to help the community. CR makes an effort to promote from within and makes a great effort to help employees learn and have opportunities. CR offers programs to promote health and wellness as well as job training.