For Immediate Release:
Comfort Research among The National Best & Brightest Sustainable Companies® Winners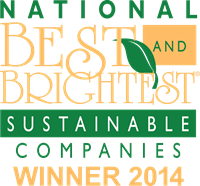 December 18, 2014 – Warren, MI — The National Association of Business Resources selects Comfort Research as one of the 2014 National Best and Brightest Sustainable Winners; focusing on inspiring sustainability and taking the lead on Green initiatives.
The Best and Brightest Sustainable Companies® honors companies from all industries that are focused on being more sustainable, improving the lives of their employees and are committed to the local and global environments.
Winning companies were evaluated and scored by an independent research firm in the following categories: Education, Communication, Strategic Planning & Operational Implementation, Innovation & Problem Solving, Building & Grounds, Community Leadership, Workforce and Financial Performance. Each company's entry is evaluated based on a point system; those receiving the highest points in relation to the company's sustainable initiatives category are selected as the winners.
The Best and Brightest Sustainable Companies® celebrates organizations that inspire and produce green technology to impact the industry and environment. This is the premier awards symposium that celebrates those companies that are making their businesses more sustainable, the lives of their employees better and improving the community locally and globally as a whole.
Learn more about the National Association for Business Resources and see the other winners at:http://www.101bestandbrightest.com