From the Marshall County Tribune | Editor Karen Hall
For the second year, Comfort Research is donating bean bag chairs to the Cops for Kids organization. This year it's 170 chairs, one for each child.
That's a lot of merchandise," exlaimed Police Chief Chuck Forbis. "Last year the children were almost more excited about the chiars than about the shopping they did," said Capt. Rebekah Mitchell. "This continuing effort is part of a community and support worth causes", said TN Plant Manager Will Willson. "Comfort Research has a good track record of doing that."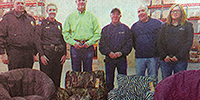 The big day, when 170 children will get $100 each to spend at the local Walmart, and go home with all this and a chair too, is Saturday, Dec 13th.
The Comfort Research factory, in part of the old Heil-Quaker complex, was a hive of activity the morning this picture was taken. A special machine from Germany expands the pellets "like popcorn" as Wiolson said, until they are the right size for stuffing chairs. Huge cloth bags hold the "beans" until they are used. Boxes, each containing a chair and labled do not cut with a sharp knife were being sorted, stacked and moved to different areas for storage or shipment. Some of the boxes were loaded direct onto FedEx trucks. Wilson said these were chairs which had been ordered on a retailer's website, but will be delivered direct to customers' homes  – something that the TN plant just started doing this month.