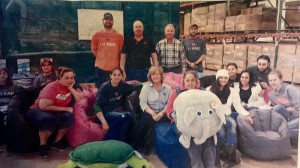 Comfort Research partnered with Pam Thomason and Pratt Industries to donate 50 bean bags and Bean Bagimals to the Ronald McDonald House of Memphis.
"Comfort for All" extends beyond just comfortable furniture. It's also about supporting the wellbeing of those around us and in need however we can.
Ronald McDonald house provides supportive services and a home-away-from-home for St. Jude families and their children reciving treatment for cancer and other catastrophic childhood illnesses. Since opening its doors in 1991, Ronald McDonald House of Memphis and provided a home for more than 8,300.
Learn more about the Ronald McDonald House of Memphis at: http://www.rmhc-memphis.org/
---
About Comfort Research
Comfort Research, headquartered in Grand Rapids, MI and having manufacturing facilities in Michigan and Tennessee, are the makers of Big Joe®, Fuf®, Bean Bagimals®, Classic Beanbag™ and the recently introduced Orahh™ product lines. The company is revolutionizing affordable furniture by developing products through innovation and research that deliver greater comfort, design aesthetics and value.