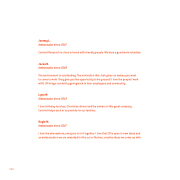 100
Jaremy L.
Ambassador since 2017
Comfort Research is close to home with friendly people. We have a good work schedule.
Jacee N.
Ambassador since 2018
The environment is outstanding. The motivation that Josh gives us makes you want to come to work. They give you the opportunity to be yourself. I love the people I work with! CR brings comfort by giving back to their employees and community.
Lynn W.
Ambassador since 2013
I love birthday lunches, Christmas dinner and the owners of this great company. Comfort helps each of us provide for our families.
Kayla M.
Ambassador since 2017
I love the atmosphere; everyone is in it together. I love that CR is open to new ideas and as ambassadors we are rewarded for the out of the box, creative ideas we come up with.