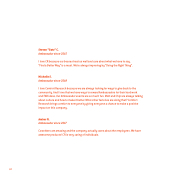 60
Steven "Gato" C.
Ambassador since 2015
I love CR because our bosses treat us well and care about what we have to say. "Find a Better Way" is a must. We're always improving by "Doing the Right Thing".
Michelle S.
Ambassador since 2018
I love Comfort Research because we are always looking for ways to give back to the community. And I love that we have ways to reward Ambassadors for their hard work
and FAB ideas. Our Ambassador events are so much fun. Matt and Chip are always talking about culture and how to make it better. What other factories are doing that? Comfort Research brings comfort to everyone by giving everyone a chance to make a positive impact on this company.
Amber R.
Ambassador since 2017
Coworkers are amazing and the company actually cares about the employees. We have awesome products! CR is very caring of individuals.