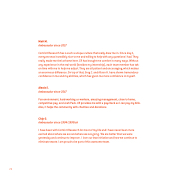 74
Comfort Santa and his crew taking a break from handing out Christmas gifts
Matt M.
Ambassador since 2017
Comfort Research has a such a unique culture that really drew me in. Since day 1, everyone was incredibly nice to me and willing to help with any questions I had. They really made me feel at home here. CR has brought me comfort in many ways. Without any experience in the real world (besides my internship), each team member has tak- en time with me to help me adjust. They are all patient and encouraging, which makes an enormous difference. On top of that, Greg C. and Alison H. have shown tremendous confidence in me and my abilities, which has given me more confidence in myself.
Alexis S.
Ambassador since 2017
Fun environment, hard-working co-workers, amazing management, close to home, competitive pay, and Josh Pack. CR provides me with a paycheck so I can pay my bills. Also, it helps the community with charities and donations.
Chip G.
Ambassador since 1994/1995ish
I have been with Comfort Research for most of my life and I have never been more excited about where we are and where we are going. We are better than we were yesterday and continue to improve. I love our lean initiative and how we continue to eliminate waste. I am proud to be part of this awesome team.