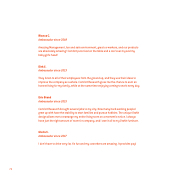 78
Bianca C.
Ambassador since 2018
Amazing Management, fun and safe environment, great co-workers, and our products are absolutely amazing! Comfort puts food on the table and a roof over my and my baby girl's head!
Dirk S.
Ambassador since 2013
They listen to all of their employees from the ground up, and they use their ideas to improve the company as a whole. Comfort Research gives me the chance to earn an honest living for my family, while at the same time enjoying coming to work every day.
Eric Brand
Ambassador since 2015
Comfort Research brought several jobs to my city. Now many hard-working people I grew up with have the stability to start families and pursue hobbies. The unique Orahh design allows me to rearrange my entire living room on a moment's notice. I always have just the right amount of room for company, and I owe it all to my Orahh furniture.
Gloria S.
Ambassador since 2017
I don't have to drive very far, it's fun and my coworkers are amazing. It provides pay!