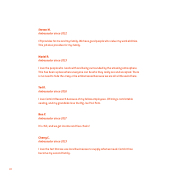 82
Steven M.
Ambassador since 2012
CR provides for me and my family. We have good people who value my work abilities. This job also provides for my family.
Mariel R.
Ambassador since 2013
I love the people who I work with and being surrounded by the amazing atmosphere. This has been a place where everyone can be who they really are and accepted. There is no need to hide the crazy or be embarrassed because we are all a little weird here.
Ted O.
Ambassador since 2016
I love Comfort Research because of my fellow employees. CR brings comfortable seating, and my grandkids love the Big Joe Pool Petz.
Ben P.
Ambassador since 2017
It's chill, and we get income and free chairs!
Cherry C.
Ambassador since 2013
I love the fact that we use local businesses to supply what we need. Comfort has become my second family.