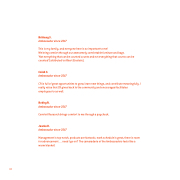 92
Brittany S.
Ambassador since 2017
This is my family, and everyone here is so important to me!
We bring comfort through our awesomely comfortable furniture and bags.
'Not everything that can be counted counts and not everything that counts can be counted' (attributed to Albert Einstein).
Caleb S.
Ambassador since 2017
CR is full of great opportunities to grow, learn new things, and contribute meaningfully. I really value that CR gives back to the community and encourages/facilitates employees to as well.
Bobby R.
Ambassador since 2017
Comfort Research brings comfort to me through a paycheck.
Jeanie D.
Ambassador since 2017
Management is top-notch, products are fantastic, work schedule is great, there is room for advancement... need I go on? The camaraderie of the Ambassadors feels like a warm blanket!