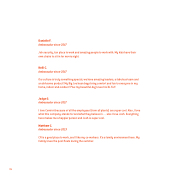 96
Danielle F.
Ambassador since 2017
Job security, fun place to work and amazing people to work with. My kids have their own chairs to sit in for movie night.
Kelli C.
Ambassador since 2017
Our culture is truly something special; we have amazing leaders, a fabulous team and an ahhsome product! My Big Joe bean bags bring comfort and fun to everyone in my home, indoor and outdoor! Plus my beautiful dog loves his XL Fuf!
Jadyn G.
Ambassador since 2017
I love Comfort because of all the employees (from all plants) are super cool. Also, I love what this company stands for and what they believe in... also I love Josh. Everything here makes me a happier person and Josh is super cool.
Matthew C.
Ambassador since 2013
CR is a good place to work, and I like my co-workers. It's a family environment here. My family loves the pool floats during the summer.